In addition to my dissertation, I am the authors of three books. Two of them are textbooks in business administration. One is a classic in its area - the constantly "new" Den Nya Affärsredovisningen (The New Business Reporting)—where I have come in as co-author of the 18th(!) edition. The second book is a textbook in auditing. The book—which is simply called Revision (Auditing)—is directed to university and college students. The book is also suitable for practicing accountants who wish to put their daily work in a theoretical perspective, and others curious about the phenomenon of auditing. The third and latest book reports on the findings of a number of research projects on IFRS, undertaken under the joint umbrella of a project funded by Handelsbankens forskningsstiftelser.
IFRS – Dilemman och utmaningar
IFRS – Dilemman och utmaningar (IFRS – Dilemmas and challenges) was first published in 2015. This book honours the ten year anniversary of IFRS in Sweden (Europe) by analyzing IFRS from a local perspective, asking the question: What happens when a global standard is dropped into a local tradition and culture. Throughout the book we identify and analyze a number of dilemmas and challenges.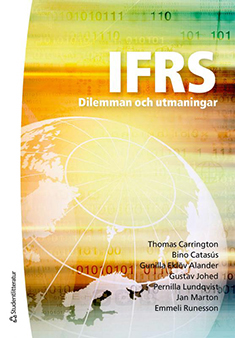 I Sverige har införandet av obligatorisk IFRS för noterade företag varit omdiskuterat. I boken IFRS – Dilemman och utmaningar diskuteras skälen till detta, med användning av såväl författarnas egen som andras forskning. En aspekt av IFRS är att det är principbaserat och kräver bedömningar vid upprättande av finansiella rapporter. Detta kan leda till brist på harmonisering och skapa svårigheter för exempelvis revisorer. Å andra sidan skulle det sannolikt vara svårt att införa strikta redovisningsregler globalt. En annan aspekt av IFRS är att det baseras på en syn på ägande och företagsstyrning som skiljer sig från den som utgör grunden för svenskt näringsliv. Detta avspeglar sig exempelvis i användning av verkligt värde inom IFRS, och i den traditionellt svaga tillsynen i Sverige. Boken är av intresse för alla de som i praktiken påverkats av införandet av IFRS i Sverige (revisorer, redovisare och användare av redovisning), samt för studenter och forskare med intresse för svensk externredovisning.

Authors: Thomas Carrington, Bino Catasús, Gunilla Eklöv Alander, Gustav Johed, Pernilla Lundqvist, Jan Marton, Emmeli Runesson
Publication Year: 2015
Publisher: Studentlitteratur
Current Edition: 1
Website: https://www.studentlitteratur.se/#38242

Revision
Revision (Auditing) was first published in 2010. The second and latest edition was published in late 2014. The book is in Swedish.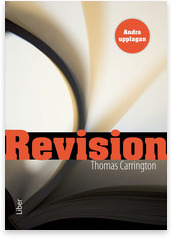 Varför behövs revision? Vilken är revisorns roll i relation till övriga finansiella aktörer? Och vad är det egentligen som revisorer producerar? Hur säkra och trovärdiga är företagens finansiella rapporter och hur gör vi för att bedöma det? Den här boken belyser dessa och liknande frågor med hjälp av olika teoretiska perspektiv på revision. Revision är den första läroboken på svenska i ämnet. Den är inte tänkt att ge recept på hur du utför revision på bästa sätt, utan snarare svara på frågan varför revision praktiseras så som det gör. Författaren tar upp grundläggande begrepp som risk, väsentlighet och oberoende och går igenom områden som revisionsmetodik, revisionsbranschens organisering och översyn samt revisionens utveckling. För mer praktisk hjälp i det vardagliga arbetet finns kontinuerliga referenser. Boken vänder sig i första hand till företagsrevisorer och studenter på universitetsnivå. Men tack vare bokens teoretiska utgångspunkt lämpar den sig även för andra typer av revisorer, inom exempelvis miljö och IT-området.

Author: Thomas Carrington
Publication Year: 2010
Publisher: Liber
Current Edition: 2 (2014)
Website: www.revisionsboken.se

Den Nya Affärsredovisningen
Den nya affärsredovisningen (The New Business Reporting), or DNA for short, is currently in its twentieth edition. I used this book when I learned accounting in the nineties. Already then it was—and had been for quite some time—the market leading textbook in accounting, which it still is today. DNA is written in Swedish.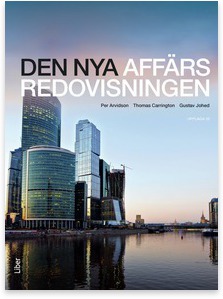 Den nya affärsredovisningen vägleder studenten genom hela lärprocessen. Serien består av en faktabok, en övningsbok och en lösningsbok. Böckerna säljs separat. Det pedagogiska upplägget med faktarutor, figurer, verklighetsanknutna fallstudier och övningsuppgifter underlättar inlärningen och hjälper studenten att greppa redovisningen på djupet. Den nya affärsredovisningen är Sveriges äldsta och mest använda redovisningsbok med marknadens starkaste pedagogiska upplägg – både lärare och studenter uppskattar hur grunderna i redovisning successivt byggs på med nya utmanande redovisningsområden.

Authors: Per Arvidson, Thomas Carrington, Gustav Johed, Isabella Nordlund (previously also Jan Thomasson, Hans Lindquist, Olov Larson, Lennart Rohlin)
Publication Year: 1975
Publisher: Liber
Current Edition: 22 (2021)
Website: www.liber.se/dna
Framing Audit Failure
I defended my dissertation, Framing Audit Failure: Four studies on audit quality discomforts, in November 2007 at Stockholm University School of Business. The thesis, which—as the name implies—is a collection of four papers, deals with the big issue of how to understand (the value of) auditing and how this understanding can be teased out in situations of discomfort and failure.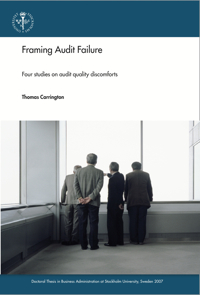 This thesis analyzes the practice of auditing in terms of how relevant actors frame audit failure. Auditing, like any other human undertaking, is prone to sometimes fail. The historical analysis of the practice of financial auditing shows that the importance of the audit has progressed in tandem with business failures. The analysis shows that the financial reports that are at fault or even fraudulent in these business failures are often audited. To what extent a particular business failure is also an audit failure is a controversial issue. The question at stake is whether a particular audit is a firm failure or an auditing failure. One of the findings of this thesis is that such a relationship cannot be universally measured. Different actors have different views and therefore different measures and, consequently, frame audit failure differently.
Author: Thomas Carrington
Publication Year: 2007
Publisher: Stockholm University School of Business
Reference: https://urn.kb.se/resolve?urn=urn:nbn:se:su:diva-7124